I had to take a moment when I heard that we would be taking a float to the Lord Mayor's Show this November. I had my first encounter with the Show last year and although it was a great experience overall it was not without its problems. Most notably, after a day of lost balloons, string shortages and broken vintage Land Rovers, our starring turn was eclipsed when a gigantic inflatable octopus belonging to the float behind us was incorrectly labelled as ASDAN's. It was a blow. I have spent the year since playing out conversations in my head, "I keep meaning to ask – what did the Octopus stand for?" "Where did you get the Octopus?" and "that Octopus was really smug wasn't it!" Okay – the last one is just my flight of fancy. As our marketing events officer, it was my job to sort out our float this year and I was nervous.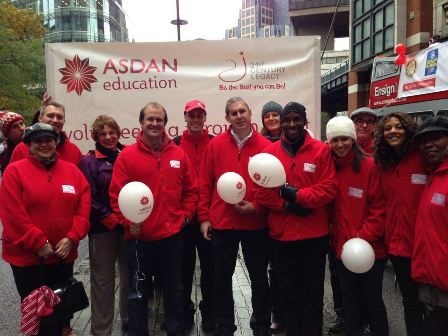 Luckily, we had the perfect starting point. It has been a great year for sport and, in my opinion just as importantly, a great year for volunteering. I was lucky enough to catch a game of handball at the Olympic park and was absolutely staggered by the fantastic people who were giving their time so freely to give viewers the awe-inspiring experience we all had. Because of them, the profile of volunteering has been raised considerably and that's great news for ASDAN as our Community Volunteering Qualification and Volunteering Short Course are perfect ways of recognising that kind of activity. We couldn't miss the opportunity to celebrate these links, so it was a short step for us to team up with David Hemery's inspirational company 21stCentury Legacy to put together a float with the theme 'volunteering through sport.'
We kept it simple. A finish line type banner at the front and a 'support vehicle' festooned with balloons at the back framed our pitch. We recruited ASDAN friends and sports-focused centres already delivering our Programmes and Qualifications to form the main body of the float – who better to represent ASDAN than those who know the value first-hand!
With some hard work – and a lot of lists – our plans came to fruition, and in no time at all, the day arrived…
It wouldn't be the Lord Mayor's Show without something breaking down, so I was not at all surprised when, on the morning of the event, my fellow events-teamer, Jamie, let me know that the battery in his hotel room door had died and, despite the best efforts of no fewer than three hotel staff, he was unable to get into his room. So, slightly bashful in my Dad's jogging bottoms and cowering under the weight of five ASDAN fleeces for my colleagues, I left him behind and headed to the parade solo.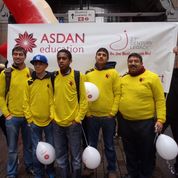 Despite my general lack of sense of direction and cavalier approach to maps, I quickly found our float, already marked out by Regional Manager Adrian Sladdin, who was our driver for the day. Once I had checked our props had arrived safe and sound, and kitted Adrian out with his very own ASDAN jumper, it was finally time to meet the people I'd been talking to and emailing for the last few months. Helen and Matt from Watford FC brought a group of young superstars who this summer completed the Football Short Course. Ric and the Motocross Challenge Project team brought glamour on wheels with two super cool motocross bikes. Kate Benson James came up trumps with a groovy group of university students who added lots of fun, and of course 21st Century Legacy, led by Josie and Tim, arrived with 10 real life Paralympians, Olympians and their very own Gamesmaker!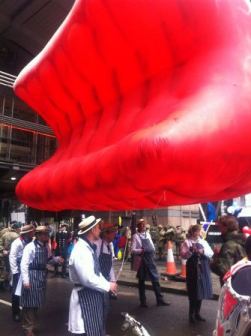 The atmosphere was electric. With friends arriving from all over the country, balloons being blown up, and banners unfurled, I took a moment to look around me - at the marshals in their dress uniforms, at the clouds obediently holding back the rain, at the other floats next to us: in front, Girlguilding LaSER and behind us... Well. Behind us was an inflatable rack of lamb. A gigantic, inflatable rack of lamb. Of the sort of size that a giant inflatable octopus might have for his tea. I couldn't believe it. I wouldn't have been any more surprised if I had turned around to find my nemesis himself behind me. I picked my jaw up from the floor, and then spent an enjoyable minute or two chuckling at the risk assessment their float leader will have had to write. 'Hazard: wind catches giant rack of lamb like a sail. Risk: carriers of giant rack of lamb become airborne. Solution: erm...heavy shoes?'
Before long, we were off. Walking in the Lord Mayor's Show is a very strange, but amazing thing to do. There were tens of thousands of people lining the streets, waving and cheering. You needed a moment to drink it all in. Highlights for me included the Lord Mayor recognising us (a lip-reader amongst our group caught him saying "Oh – it's ASDAN" – RESULT!), a young audience member, spotting the motocross riders announcing to his peers that he "bagsied the bikes" and National Development Coordinator and ASDAN trouper, Jenni Robertson, accidentally knocking a policeman's hat off.
Some 6500 people took part in the parade this year, and even more helped to put it all together. We are very proud to have worked with the Show organisers to award 950 young volunteers with certificates rewarding their participation, including the Girl Guides who managed the distribution of lunch to lots of hungry paraders with frankly admirable organisation and aplomb.
What a positive experience. We had a great time, spread the word of ASDAN that bit further, and helped even more people achieve recognition for their efforts – it couldn't have gone better. In a storage unit somewhere, a giant inflatable octopus is feeling foiled...