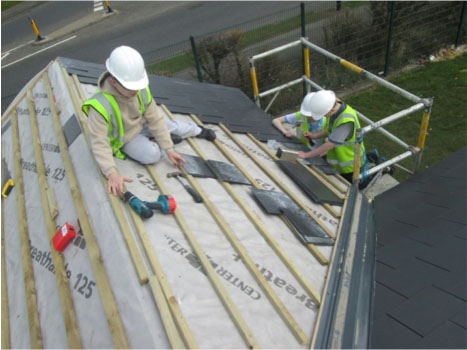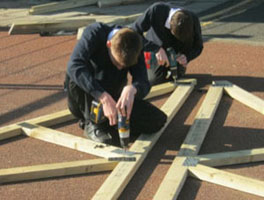 Scott Cassidy, a Year 10 student at George Stephenson High School, describes the hard work and enthusiasm that has gone in to his school's innovative ASDAN project.
Students in Years 10, 11 and 12 at George Stephenson High School in Killingworth, near Newcastle upon Tyne, are close to finishing an entirely sustainable two-bedroomed detached bungalow that they have built as part of their ASDAN Level 2 and Level 3 Wider Key Skills and CoPE studies.
The students' challenge was to demonstrate that it was possible to construct a habitable home that was not only energy efficient, but energy independent, whilst being accessible to people with disabilities and affordable at the same time.
The bungalow, which was partly funded by an ASDAN grant, is constructed of timber frames and sheets, and all the wood used is from certified renewable sources. The building has been designed to be as sustainable as possible, with many of the materials being salvaged or recycled, or else sourced and produced with the environment and sustainability in mind.
All of the electrical, heating and water systems are from renewable sources and are entirely carbon neutral. Solar panels power the electric and hot water systems, while the heating is fuelled by biomass using salvaged and scrap materials only. The entire water supply is collected from the roof of the bungalow as rainfall and filtered to make it safe to drink. All waste water is filtered using plants and pumped back in to the house to flush the toilet!
In addition, all of the plants grown are edible, as are the trees in the garden around the bungalow, providing a useful source of fruit and vegetables and also to reducing 'food miles'. These plants also help to prevent global warming by converting CO2 to oxygen.
Students' reactions to being involved in such a complex research, design and build project have been very positive indeed. Dan Wiseman, one of the Year 12 students involved in the build, said, "My skills and knowledge have really grown and I can now solve problems without hesitation and without getting help from anyone." Lewis Anderson added, "I have got more confidence and I know what I want to do in the future. My confidence has come from being able to work independently."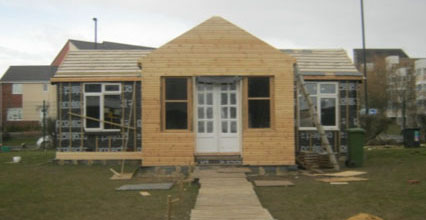 Scott Cassidy, Year 10, George Stephenson High School