Children in care flourish under innovative equine scheme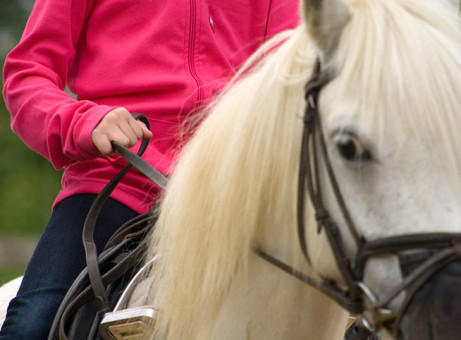 Stable Relationships provides creative and equine-based educational activities for young people. In April, the organisation used its ASDAN grant to run our Leadership Short Course for a group of children in care. Debbie Woolfe, Stable Relationships Managing Director, describes the impact the course has had.
We are based in Telford but travel all over the country taking horses and ponies into schools. The young people we work with are often struggling to achieve their full potential within a mainstream curriculum and the ASDAN programmes we deliver help them gain valuable experiences and accreditation for the creative work that they undertake.
In April 2016, we were lucky enough to receive grant funding from ASDAN to run the ASDAN Leadership Short Course in Telford for a group of looked-after young people. The funding helped us to buy resources for the programme, and these resources will also be used for many future programmes. The young people were all aged 11-15 and attend a special school for traumatised children. They all also live in residential homes attached to the school.
Over the 12 week period, the students investigated attributes and skills such as:
qualities needed to be an effective leader
developing trust
working as a team
communication
The African drums that we were able to buy with the ASDAN funding enabled us to encourage the learners to work as a team. The drums also promoted auditory learning since the young people had to get to grips with African rhythms and techniques. The course was the first time the children had shown an interest in their work, and their teachers were impressed that they had responded in this way. The students were always keen to participate in all aspects of sessions and loved filling in their ASDAN books because it was the first time they had felt that they were getting a 'proper' award for their work.
The students learned about caring for horses, riding, and leading safe and engaging equine-based sessions for others. Their programme culminated in four sessions where, under supervision, the learners had to lead groups of younger children through equine sessions. They worked with primary school children in Years 3, 4, and 5 and 6. These sessions helped them work as a leadership team, develop their confidence, and experience managing other young people and horses. They and the younger children benefitted immensely from the experiences.
It is hard to really put into words the way that the students developed over the course. They gained independence, maturity, friendship, social skills, communication skills, confidence, and pride in themselves and their abilities. They experienced making a positive difference to each other, to horses, and to younger students. At the end of the course, we gave them all polo shirts with their names, and they wore them with pride. Two of them are coming back to continue working with younger students doing the ASDAN Activities Short Course next term. Another is coming back for riding lessons and two more will be moving on to mainstream schools.
We would like to thank ASDAN for the opportunities that the funding has provided and we will be running similar programmes in the future.