Learners develop new skills through garden expansion project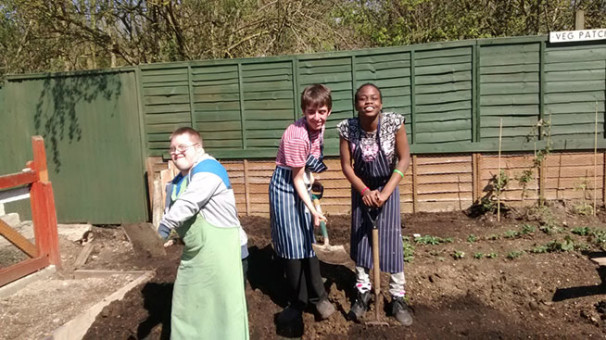 The Phoenix Trust (Milton), Cambridgeshire, is a social enterprise providing meaningful work experience in carpentry, gardening and concrete paving for young people and adults with learning disabilities, mental health problems and behavioural issues. Jess Earnshaw, Trainee Coordinator, explains how the Trust invested its ASDAN grant in a garden expansion scheme that helped learners develop valuable new skills.
Our trainees were involved in every aspect of the garden extension project. Before we began the work, several trainees drew up plans for the plot, decided where to put the gates and paths, and identified the plants we could grow. We then marked out the new area and some of our trainees, who were working in the woodshed, made sets of fencing, cutting the wood before painting it.
The next job was to dig out the area. At first we were digging out gravel but it soon became clear that we would have to move concrete too. Our trainees, volunteers and staff rose to the challenge and hammered and chipped away until the area was clear and and we could bring in the new soil. Everyone coped really well with a physically demanding task.
Trainees discussed what type of soil they would need for the garden with staff and then wrote a letter to a local business asking for a discount on a bulk purchase. It wasn't long before the soil arrived and we started the job of digging it into the vegetable patch.
It took three days and over a hundred wheelbarrow trips to move all the soil, but we worked as a team and got it done. This was excellent teamwork and we abided by health and safety rules as trainees were careful not to overload their and their teammates' wheelbarrows.
The increased size of our vegetable patch, made possible through the garden expansion, means we can expand the range of what we grow and we have a mixture of fruit and vegetables. We are already successfully harvesting strawberries, raspberries, beetroot, potatoes, and courgettes. The garden is growing well and provides extra work opportunities for our trainees, from watering to weeding and harvesting. Everyone has enjoyed working on the project and it looks set to provide a lot more work and responsibility for our trainees for years to come.
Many of those who worked on the project have been learning valuable skills that relate to the ASDAN Employability qualification they are undertaking. We have found that planting vegetables and weeding complement the Maintaining Work Standards unit, the use of garden tools lends itself very well to Health and Safety in the Workplace, and any large jobs where trainees work together is perfect for Team Working.