Rewarding skills development from carnival activities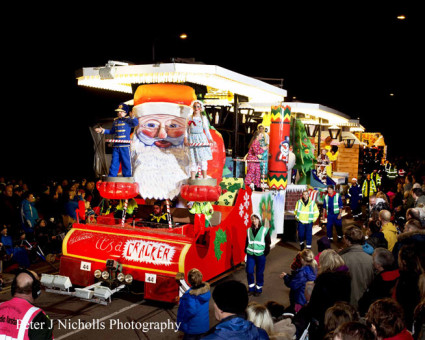 The Somerset carnivals are regarded as among the largest illuminated processions in the world. The carnivals, which take place every November in seven towns across Somerset, attract crowds of around 250,000 people over the two-week period. Young people from one club have been using ASDAN's Activities Short Course to accredit their learning and the skills they have developed as a result of their participation in the carnivals.
Hillview Junior Carnival Club in Highbridge, Somerset, now in its 42nd year, has 20 children ranging in ages from seven to 16 that help create and perform on its annual carnival float. Being an active member of a carnival club is an all year round commitment and the children take part in a wide range of activities throughout the year. Fundraising work includes bake sales, quiz nights, bag packing at local supermarkets, skittles events, bingo events and carol singing to raise funds to build the float as well as to donate money to local charities. Participation in the carnivals involves a huge amount of preparation including extensive rehearsals and dance choreography.
A group of older children in the club have used the ASDAN Activities Short Course to accredit the activities they have each engaged in and compile evidence for the skills they have developed.
Deborah Clark, the club's Children's Coordinator, said: "The Activities Short Course provides acknowledgment for all the hard work the children put in throughout the year which previously went unrecognised. The activity-based framework of the course allows them to reflect on the skills they are developing, all of which will support them in their school education and beyond."
Deborah's son Luke, who is 15, is now in his final year as a junior member of the club and hopes to use some of the skills he has learnt from building the float, such as carpentry and painting, to progress on to an apprenticeship.
Fellow club member Lauren James, aged 16, said: "I really enjoyed supporting the younger members in the club in learning the dance choreography and helping them with their make-up for the carnivals." Lauren plans to continue her involvement in the club as an adult member in 2017.
The club members will be presented with their Activities Short Course certificates at an Awards ceremony in January.