Resources launched for primary to secondary transition programme
New resources have been created to support ASDAN's innovative primary to secondary school transition programme.
Lift Off enables students aged 10 to 12 to develop the characteristics and qualities needed to make a confident and successful start at secondary school.
A new version of the Lift Off student book has been created for Year 7 learners to support centres that wish to run the course in Year 7 only. A second student book is available for centres wishing to deliver the course across Years 6 and 7.
The Lift Off tutor resource pack has also been updated to include suggested delivery models (see below).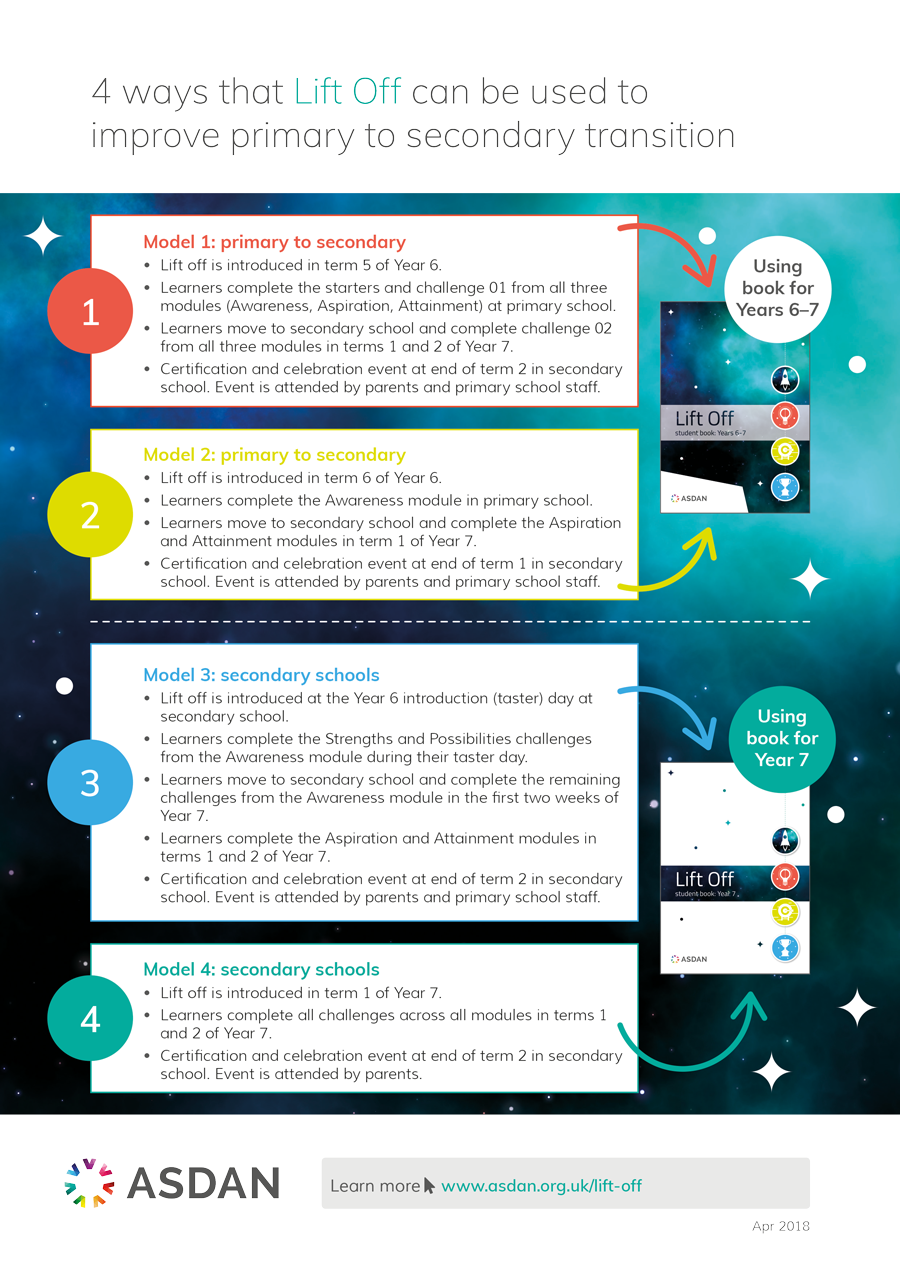 Lift Off was created following an 18-month research project and pilot run in collaboration with our partners the Paul Hamlyn Foundation and The Progression Trust.
Researchers found that pupils who had participated were more likely to feel excited and confident about the prospect of starting secondary school. When interviewed by researchers after starting secondary school, the learners who had participated expressed positive feelings such as enjoyment and satisfaction from being at secondary school.
The most successful strategies from the pilot were compiled to form the Lift Off programme.
In a blog, ASDAN Education Director Martina Veale said: "Research shows that a poorly handled transition can manifest itself in lower grades, poor attendance, increased anxiety and disruptive behaviour. In fact, low self-esteem, depression and poor academic attainment at age 18 have been reported in pupils who described their move to secondary school as difficult."
"We hope that Lift Off will go a long way in helping to highlight the importance of getting transition right and support schools in fostering the qualities learners need to make the best possible start at secondary school.
"With many schools now working on their transition activities for the next Year 7 cohort, Lift Off provides a ready-made, high quality programme that's proven to help learners make a successful start at secondary school."