ASDAN courses boost skills and confidence of learners in China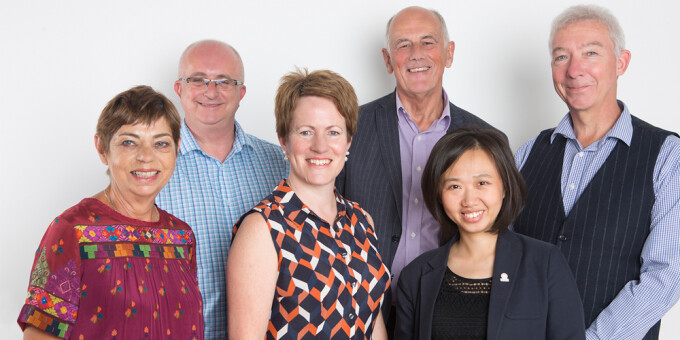 Caption, left to right: Alison Delyth, ASDAN Chair of Trustees; Brian Doidge, Vice Chair of Trustees; Jenny Williams, Chief Executive; Peter Scholey, Vice Chair of Trustees; Yichan Yuan, ASDAN Director in China; Martin Lane, Head of Relationship Management

ASDAN is planning to expand the range of courses it offers in China following a growth in the number of students undertaking its programmes and qualifications in the country.
ASDAN currently offers products in China including:
Last year, more than 5,400 ASDAN certificates were awarded to students in China.
During a recent visit to Wainbrook House, ASDAN's main office in Bristol, Yichan Yuan, ASDAN Director in China, said: "I was honoured to be able to meet ASDAN UK staff and trustees. One of the main purposes of my trip was to explore ASDAN's new Extended Project Qualification, together with the Lift Off primary to secondary transition programme and the Accelerating Progress programmes, which aim to boost progress in English and mathematics.
"I got to know very friendly colleagues in person at ASDAN's main office, with whom we regularly communicate via email. ASDAN staff have been very helpful and supportive in sharing new course ideas with us for delivery in China."
Developing students' confidence and core skills
ASDAN uses the Certificate of Personal Effectiveness Level 3 to accredit study tours for Chinese students visiting the UK, USA and EU countries. Before the trips, students participate in learning and development activities usually based around developing their English language and problem solving skills. On the tours, students visit various cities, businesses and universities, undertaking individual and group research activities, participating in discussions and delivering oral presentations. More than 750 Chinese students have undertaken the study tours so far this year.
"CoPE Level 3 provides a focal point for the study tours, helping students develop a wide range of core skills and interpersonal skills, as well as enhancing their confidence," said Yichan. "In addition, CoPE boosts the learners' CVs and enables them to gain 16 UCAS points."
ASDAN courses engage learners
Yichan says ASDAN courses have been hugely popular in China because of the unique learning experience they provide.
"ASDAN courses are very engaging and flexible and provide so many interesting challenges for students," she said. "The courses develop their skills and recognise their achievements through the awarding of certificates. The courses are a key factor in skills-based learning, designed to help our young people succeed in future study and the workplace.
"Furthermore, delivering ASDAN programmes makes financial sense for schools since we can save them time and money by avoiding the need to create their own resources. The number of schools in China that are working with ASDAN courses is increasing year on year."
An extraordinary experience in China
Jenny Williams, ASDAN Chief Executive, visited China in November 2018 to learn more about the delivery and impact of ASDAN courses in the country.

In an article you can read on Jenny's LinkedIn profile, she reflects on how the skills-based education approach adopted by schools in China is used, alongside academic achievement, to promote student success and a strong sense of self.
More information
The Extended Project Qualification, Lift Off, and Accelerating Progress are being delivered in centres across the UK. To find out more about these courses or to arrange a free consultation with an ASDAN adviser, please visit our website.